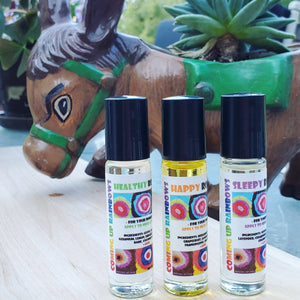 Or try our Complete Set - all 6 rollers - and SAVE!
Your favorite teacher will love this trio of Rainbow Rollers. We need to take good care of our teachers. They carry such a heavy load and have one of the most important jobs in the world. Unfortunately, they are typically underappreciated and unrecognized for all that they do. Show them you love and appreciate them. 
The Healthy Roller is for Immune Support, which we know every teacher needs!
The Happy Roller is full of citrus love to boost your mood.
The Sleepy Roller will help your teacher unwind after a busy day at school. 
If it is the right time of year, make sure you include our free Apple Add On! My Grandpa Merlin always said, "Make sure you take your teacher an apple."