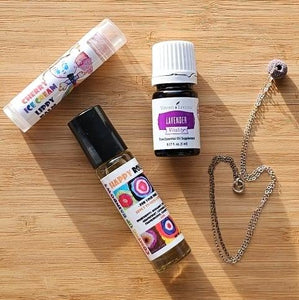 Is there someone in your life that loves to smells good? Some perfumes and potions on the market can be harmful. Why not fill your olfactory system with the good stuff? 
This small necklace on a sterling silver chain is the perfect way to wear your favorite scents, and switch them up depending on your mood. The lava bead makes the perfect diffuser, PLUS these are made at our favorite local bead shop. 
Lavender Oil is a great balancing oil that smells divine, or roll our Happy Roller on your bead or even your wrist. Safe/Natural Perfumes... assuming you aren't allergic to Lime, Grapefruit, Tangerine, Bergamot, Frankincense or Lavender.
Added Bonus: Choose from one of our fun Big Dipper Lip Balms - Cherry, Bubblegum, Yellow Cake, Tangerine Sorbet or Huckleberry. 
This bundle will surely please that "hard to buy for" someone that loves to smell yummy.