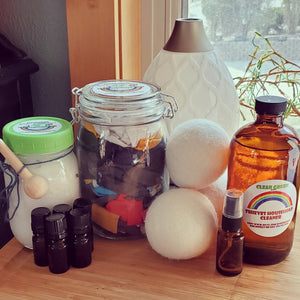 Save BIG with this bundle!
This takes the guess-work out of your earth-friendly cleaning routine. With this set of supplies, you'll also receive a pdf of recipes and suggestions on how to best put these products to use.
Included in this bundle: 
3. Six 5 ml bottles of essential oils that you'll love cleaning with. Oils included are tea tree, orange, lemon, eucalyptus, thyme & lavender.
4. A set of wool dryer balls.
5. A glass spray bottle of perfectly diluted Thieves Household Cleaner. 
6. Our Purifying Aroma Spritz + an upcycled aroma spritz bottle with a bit of witch hazel. To this bottle, you'll add distilled water and essential oils you love, to concoct a room spray of your choice. The witch hazel helps disperse the oil in the water. Check our small collection of Aroma Spritzers for some inspiration. 
Our Earth-Friendly Green Cleaning class, is something else you might be interested in!