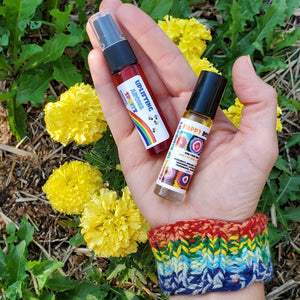 This is especially made for someone that needs a boost of love. Our powerband is made for you to share with someone you love. Maybe a kiddo on their first day of school? Maybe a friend who has a sick partner? Maybe a friend going through a difficult time? Maybe a teenager headed off to college? Maybe a grandparent who lives far away from you? Everyone could use a reminder of your love, this is a perfect way to share it. 
The other two products paired with our powerband are happy makers. You can roll the Happy Roller on your powerband, or spritz it with our Uplifting Aroma Spritz. Both of these products have hints of citrus and the spritz smells like vanilla, one of the happiest smells around. 
Support the people you love with this trio of happiness. All of our powerbands are handmade.