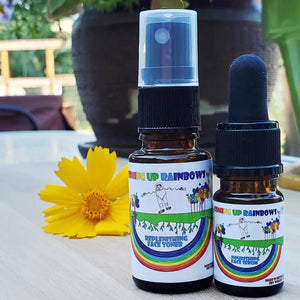 Choose our bundle and save on two of our favorite products! 
This is an important part of my daily routine. It smells delightful, nourishes my skin and feels like the best treat after I cleanse my face. I usually use two to three sprays of our Replenishing Face Toner, directly on my face. Then, I drop a small amount of Nourishing Face Serum on my ring finger and gently massage into my face. 

Once you try it, you'll want it to be part of your routine too.
The toner bottle (15ml) is quite a bit bigger than the serum bottle (5ml), but you'll likely go through your toner a bit faster than your serum. When you re-order serum remember you can get a refill without a dropper to save again. Both your toner and serum will arrive in a recycled glass bottle. We can refill, if you live nearby or mail your bottles back to us. 
Enjoy!