Pan-Fried Carrots, Homemade Applesauce and More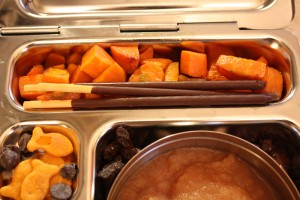 Just wanted to make sure you got a good look at those delicious Pocky sticks...I tried them for the first time in my High School Japanese Class and then coming across them at the grocery store made me pretty excited to share them with my kids. Now that's how you skip to dessert first...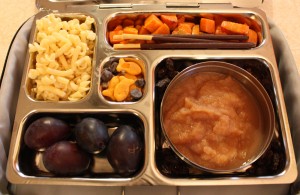 As for the real goodies - we've got some homemade applesauce today, some leftover macaroni and cheese, some ripe plums, and some goldfish crackers intermixed with a few chocolate chips, and another variation on a carrot...pan fried in a bit of olive oil and salt. And of course the Pocky. Enjoy!